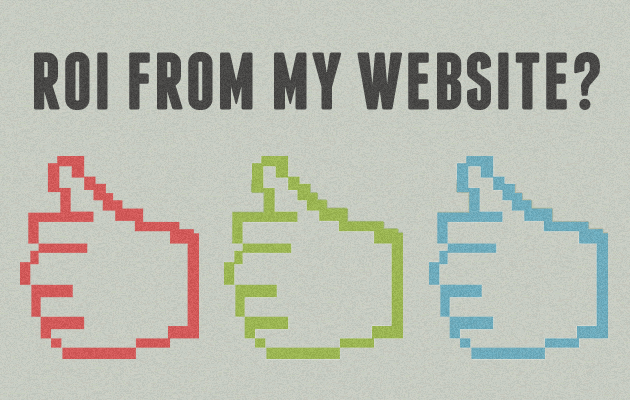 'What will the ROI* be if we are investing 'X' in a new website?'. 'How are we going to get that money back?'.
We hear this question more and more often when speaking with prospective (and existing) clients about new projects. Websites are no longer the 'brochure' sites they used to be; they're dynamic marketing tools designed and aligned to a business's objectives. They need to deliver results. Those results will of course differ from client to client.
For some, a good return on investment will be increased enquires, online/offline conversion, sales, increased visitors, calls, downloads, etc. Whatever your perception of good ROI, it's something we need to understand when planning your next web project.
Lets not kid you or ourselves – we aren't looking to provide a cash-back service, or guaranteeing you'll double your turnover in the first 48 hours of launching you new website, but what we are doing is providing you with a well thought out website/product/platform/tool to aid your business achieve your goals.
It's very difficult to provide a client with projections on ROI, because the success of business is down to the business we are serving. But if we do our job well, and deliver a project to your expectations, then you should be in a better position to achieve these goals.
ROI is different for every client, but when asked to demonstrate client success or ROI on a project, Vehicle Lease and Service Ltd (VLS Ltd) are a great case-study for this. They have very kindly provided us with some figures that highlight their success on the back of work we have done with them to improve their online systems and business processes:
Online order tracking, asset management, budget management and cost analysis – this has improved budget delivery to 100% delivery each year
Fuel data module, MPG analysis, cost saving opportunities and audit tracking – this has allowed the customer to realise savings of c.£100k a year through a change in spending patterns
To quote William Wycks, Commercial Manager at VLS, "Our online services built with Union Room, we consider to be industry leading and this has greatly improved the communication we can provide to our current customer base, whilst providing key selling tools to prospective clients. We have secured new business contracts in the past 3 years (additional revenue of c.£9m pa), providing online services without the need to increase resource – this is testament to the ease of managing that information and a reduction of paper led administration".
We are very proud of our work with VLS and look forward to further assisting them with business development and growth for a long time to come.
Perhaps we could look at how our services might be of benefit to your business? We're not just about building beautiful, functional websites! They can really help drive your business online and offline.
We would love to chat to you about how your website and digital marketing is helping your business. Why not give us a call?
*ROI or Return on Investment is a performance measure used to evaluate the efficiency of an investment.
Back to Blog