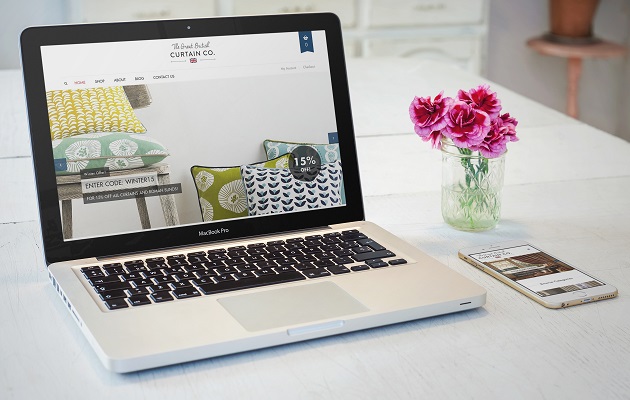 With our client The Great British Curtain Co. having just opened their first offline shop last week, we take a look back at the initial eCommerce project.
We first met with Louise and Chris Potts when The Great British Curtain Co. was still just in the concept stages. We worked with Louise to design the logo and then build an online platform that would enable her to easily sell made-to-fit soft furnishings and manage stock and payments, later adding a blog to feature new designs and trends.
The brief specified that the website needed to allow TGBCC to create bespoke curtains and blinds to perfectly fit customers' windows. The user should be able to customise these and see the finished price before adding the product to their basket. As a solution we designed and built Louise an eCommerce website with bespoke functionality. The site would instantly perform multiple calculations based on the customers' specific measurements.
In addition, part of the brief was also to look at ways to enable TGBCC to add their vast catalogue of products. This needed to require minimal time spent, and then allow them to easily sort these products into relevant categories. We introduced a solution which, for each fabric added, generates one of each product type available in that fabric. This massively reduces the amount of admin. Louise and her team then have the ability to sort these blinds, curtains, and cushions into different categories and colour groups.
The site will also automatically promote related products to up-sell. This means that the user will be able to shop for a pair of bespoke curtains and also see that matching cushions and tie backs etc are available.
Since launch we have continued to work with Louise to help build the site. We're working to add new functionality as the company grows. As previously mentioned, offline The Great British Curtain Co. opened it's flagship store in Morpeth, Northumberland, earlier this month. The business is going from strength to strength. We look forward to seeing what the future brings for the TGBCC team.
If you'd like to speak to us about an eCommerce project please contact us to get the ball rolling.
Back to Blog