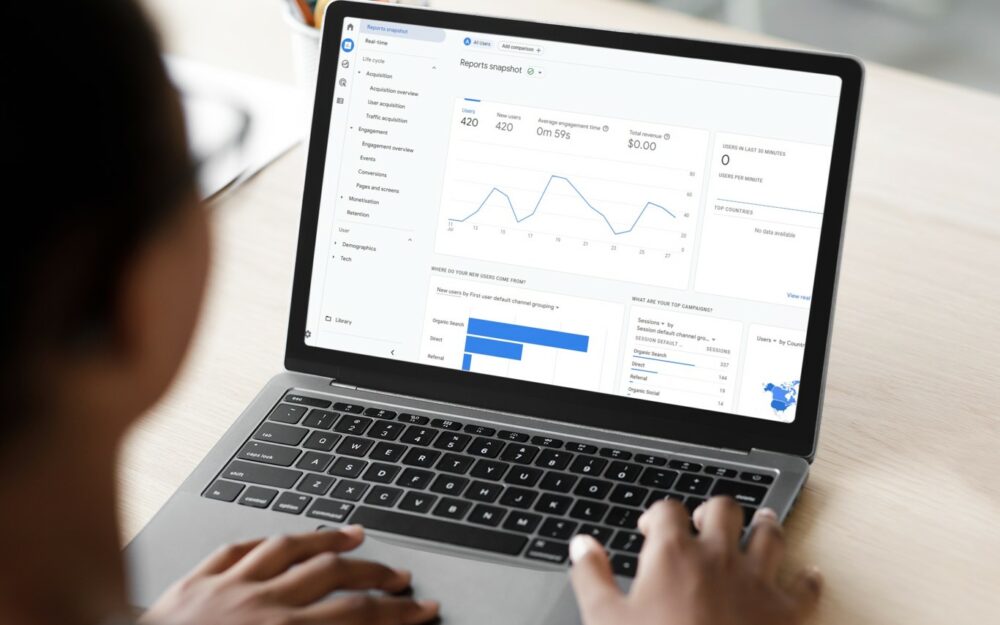 You may have noticed that GA4 is now the default version of Google Analytics and is soon to become the only option for analytics tracking from 1st July 2023.
Google Analytics allows you to analyse data for your business all in one place, with GA you're able to track website performance and gain crucial insights about your online visitors. At Union Room, our experienced in-house team work with clients to implement the tracking tools for relevant data collection as well as produce monthly reports with solution-based recommendations. We are already working with clients to set up GA4 on their websites as well as on-going reporting, if you'd like to find out more or if you have any questions get in touch with our team today.
What is GA4?
GA4 is the latest version of Google Analytics, the most significant difference is that GA4 uses AI to fill the gaps in data that traditional analytics may have previously blocked by cookie-consent rules or other privacy perimeters. In July 2023, Universal Analytics (the current Google Analytics) is set to expire meaning you can only use the new version (GA4):
You'll be able to see your Universal Analytics reports for a period of time after July 1, 2023. However, new data will only flow into Google Analytics 4 properties. – Google Support
What's new in Google Analytics 4?
Event based tracking
Universal Analytics is predominantly based on sessions and page views, whereas GA4 tracks events and parameters. For example, when a session starts ('session_start') as well as a user's first visit ('first_visit'). There are also 'enhanced measurement events' which lets you measure interactions with your content by simply enabling options within GA – no code changes are required. With enhanced measurement events, you can see the first time a user reaches the bottom of each page, each time a user performs a site search (indicated by the presence of a URL query parameter), video engagement (when a video is started as well as progress) and more.
GA4 collects both website and app data
A big difference is that GA4 can collect both website and app data all within one property to allow for a better understanding of customer journeys. This is a significant difference and should make tracking/ reporting on customer journeys a lot more seamless.
Reporting interface
At first glance of GA4, you'll notice the interface looks different as many of the reports and metrics you're used to seeing aren't there. Google has said that GA4 is based on a different measurement model, therefore you shouldn't expect to see the same reports that were available in Universal Analytics. It's worth exploring the new interface as soon as you can.
Can I still use Universal Analytics?
For now, you can still use Universal Analytics to collect and report on data, but this won't be the case for much longer:
After July 1, 2023, you'll be able to access your previously processed data in your Universal Analytics property for at least six months. – Google Support
We'd recommend starting using Google Analytics 4 as soon as you can so that you can collect as much data as possible and have that historical data to easily compare to when the switch happens. By making the switch sooner rather than later it means you can get to grips with the new interface in your own time as well.
How do I switch to GA4?
To make the change to GA4, a new property needs to be created and a new code needs to be added to the website to start collecting data. Once the code is added, setting up all of your events and goals is the next task. If you're looking to set up GA4 but don't know where to begin, we can help!
Get in touch today…
We are already working with clients to set up GA4 on their websites, if you need help with this or have any questions please give us a call on 0191 228 9444 or email [email protected].
Back to Blog