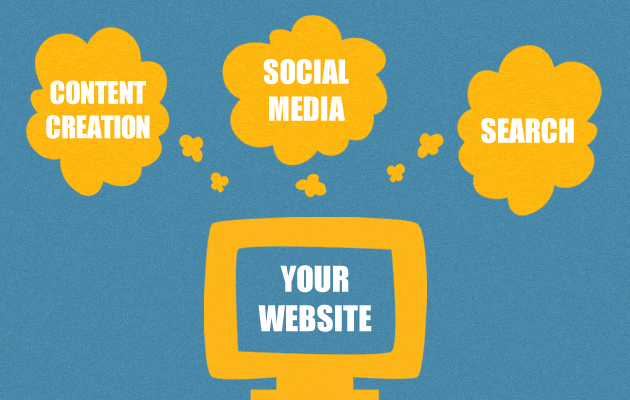 As soon as we launch a new website we are thinking about how we look after it (and you as our client) and develop it moving forward. We want to pro-actively support and improve your website and online marketing long-term. As we learn more about your business we can provide you with the creative consultancy to help develop your website to in turn grow your business. We will work with your marketing and business objectives to make sure you are getting the most from your website and wider online marketing – such as email campaigns, content creation, search optimisation and social media management.
We can provide the services to support you
With every client relationship comes a different set of requirements. We understand that your website is an ever changing tool in a fast-paced digital world, so we need to work out how we keep it up to date and relevant. It may be that we look to review monthly, quarterly or even biannually depending on what suits you. But however often we meet, it should be focused around how we can help support you with our digital services – creating a package to suit you.
What can we offer?
The level of month-to-month support we provide for each client various, buy typically we could look at providing you with (a hand-picked package of) the following services:
Content Creation
Changes to graphic/visual elements of the website
Writing blog posts and articles relating to you business
Helping you writing case-studies that are 'search friendly'
Changing promotion graphics and designs
Email campaigns
We can manage everything from the design and build of responsive HTML emails to campaign send-outs and provision of detailed reporting. For some clients we provide them with the email templates to manage the composition and campaign send themselves, for others we handle everything from creating the content, email composition and campaign send out.
Ongoing search engine optimisation
There will be short-term and long-term goals for how we promote your website to gain good search engine results. As part of a monthly working agreement we can implement a number of search techniques. These will often be incorporated within the other monthly services.
Making a plan
If we are going to work together in a more committed way, then we need to make sure we put together a plan that is suited to your needs and your budget. We can look at what we are going to provide you with then look at how we see this benefiting your website and business.
Priority service and fast turnaround
As with any client we work with on a monthly agreement, you become part of our daily focus, so a priority and dedicated services is paramount to us keeping you happy, enthused and proud of the work we produce. It's only natural for us to get to know you and your business more and more the longer we're working together.
If you would like to chat further about how we could work together more regularly and the benefits it can bring, then why not get in touch?
Back to Blog