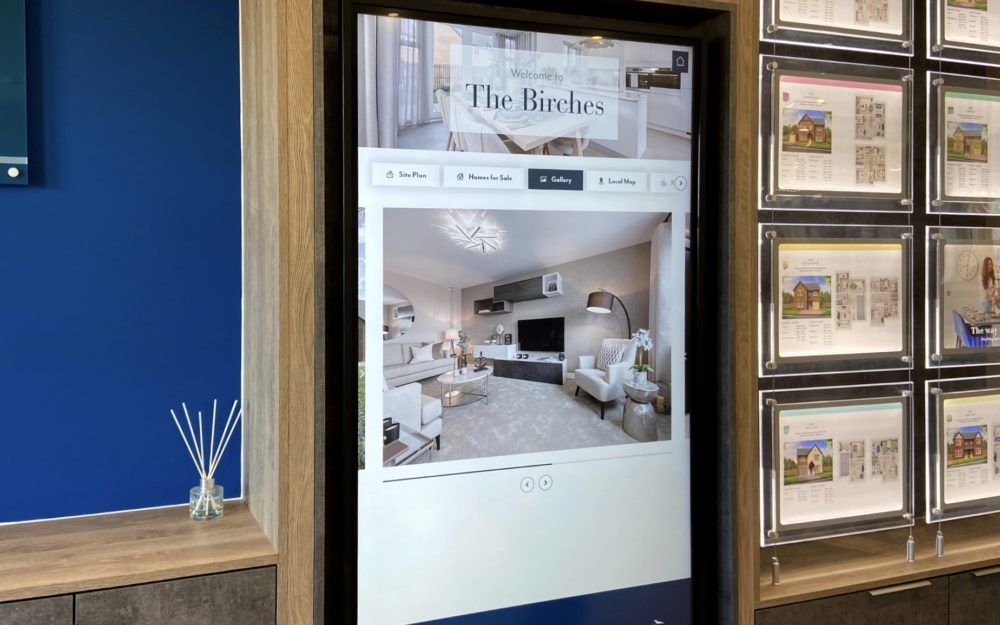 We have created an interactive, customer experience screen for Story Homes Marketing Suites. The purpose of the screen is to bring a modern-interactive element to the customer experience when browsing for homes at Story Homes Sales Centre on-site. Thanks to the touch-screen application, customers are able to explore all the house plots available on site, the range of interior designs and even build their own dream kitchen.
The screen offers a range of functions such as Image Gallery, Site Plan, Available Homes, Local Map and Virtual Tours.
Complementing the Marketing Suite exceptionally, the interactive screen allows customers to freely explore the site virtually and discover the variety of homes and design options available at Story Homes.
The interactive screen has been a big hit with staff and customers. Sales Executive Daniel Gardner had this to say – 'It's really powerful with customers, an impressive way to view all of the houses and their features across the site'. Whilst Rebecca Routledge, Group Digital Marketing Specialist for Story Homes commented, 'We've had great feedback from our Sales Team, the interactive screens really help bring our high-quality new homes to life'.
Check out our video reel demonstrating the effectiveness and creativity of Story Homes' new interactive screen: Story Homes Screen Video
If you're looking for a new website, social media management or other technology advice to better represent your business' services, why not get in touch to see how we can help?
Back to Blog