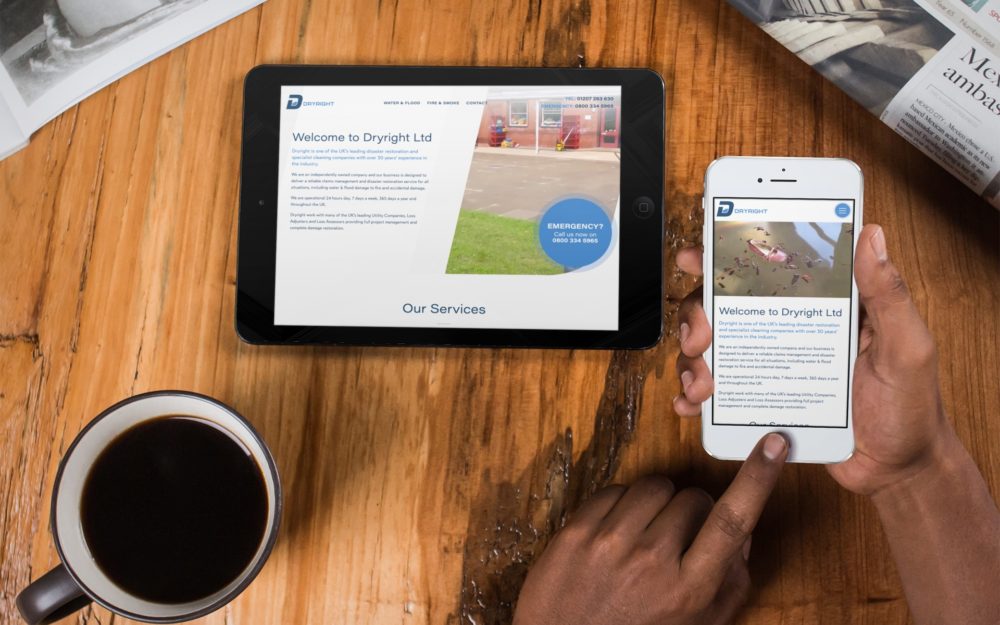 Check out the new site we designed for one of the UK's leading disaster restoration and specialist cleaning companies, Dryright.
With over 30 years' experience in the industry, this independently owned company work with many of the UK's leading Utility Companies, Loss Adjusters, and Loss Assessors, providing full project management and complete damage restoration.
The business is designed to deliver a reliable claims management and disaster restoration service for all situations and is operational 24 hours a day, 365 days a year throughout the UK, so they needed a fully operational site to represent the business and highlight the range of services they provide.
When Dryright came to us, they were looking for a new website for the business that better reflected the wide range of services available for both Commercial and also Domestic customers. The new website needed to act as a better and more impressive introduction to the business, to underpin the contracts and tenders that they were bidding for, and also the national events they'd be attending.
Dryright wanted a fresh new look including new logo ideas, and both parties agreed the navigation would need to be far more intuitive to enable easy, logical access to all areas of the website. We made sure to prioritise user journeys while keeping key target audiences in mind.
Take a look at their new site here.
You can read the full Dryright case study here, or view all of our case studies in the 'Work' section of our site to explore more Union Room projects.
If you're looking for a new site to help your business to thrive, why not get in touch to see how we can help?
Back to Blog