[image credit : Advertisement Design by Chris Quan Le]
Being the only female in the room, I'm proud to say I'm not a footy fan, but I do love my toon town, Newcastle and I think the vast majority of the Geordie staff would agree. Here I would like to share some inspirational advertising of our local export, Newcastle Brown Ale.
Newcastle Brown Ale was originally created by Colonel J. Porter in 1925; although Porter was not a Geordie. He was from Burton on Trent who commanded the 6th Battalion of the North Staffordshire Regiment in the first world war. His father was a master brewer and, after leaving the army, Porter went to work at the Newcastle Breweries where, in 1924, he set about creating a brand new bottled ale.
Newcastle Brown Ale went into production at Tyne Brewery in 1927, with Newcastle Breweries having occupied the site since 1890, with brewing on the site dating back to 1868. The Blue Star trademark was first used in the 1928 though it was not registered until 1932. It represented the five original companies who formed Newcastle Breweries. It was first advertised as 'Entirely new – a good Brown Ale with a rich, mature flavour.' It was sold at 9d a bottle!

There have been many special editions and changes of the labels over the years, promoting significant events in the North East; in 2005 the last 3,000 bottles produced in Newcastle were given commemorative labels "121 years of brewing history, last bottles produced at Tyne Brewery April 2005." and given to the brewery staff. In 2006, a special production run of 2.5 million bottles celebrated the career of Newcastle United striker Alan Shearer, who had recently broken the club's scoring record and was about to retire from football. The brewery produced the special editions featuring Newcastle United's black and white stripes and Shearer's portrait, in exchange for a donation to Shearer's testimonial match, and they went on sale from 17 April that year.

In 2007 a special edition was released to celebrate local rock band Maxïmo Park. The label was designed by the band and the beer released to coincide with the band's concert at Newcastle Metro Radio Arena on 15 December. Also in 2007, a special 80th anniversary themed bottle was distributed.
In 2010, Heineken USA launched Newcastle Summer Ale in bottles.

Newcastle Brown Ale is enjoyed all over the world in over 40 countries, including Australia, New Zealand, is one of the fastest selling ale's in the United States and was spotted by my parents in the Club360 revolving bar in New Orleans!

Newcastle Brown Ale Carriages Beamish Museum, July 2008

Gateshead tram with Newcastle Brown Ale advert

Newcastle Brown beer mat

Newcastle Brown Ale brochure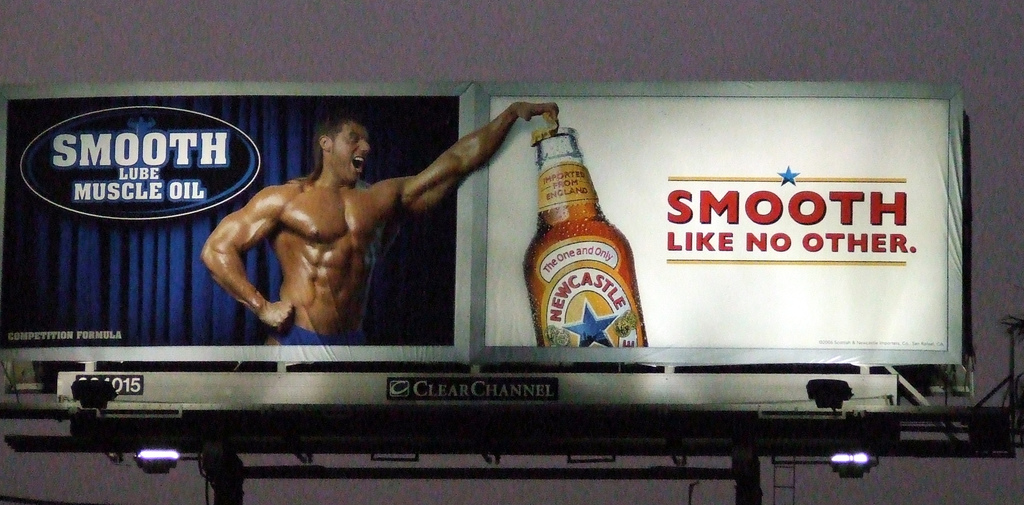 Billboard Sign at LAX, Los Angeles

Newcastle Brown Ale outdoor campaign

Promotional surfboard designs for Newcastle Brown Ale

The Geordies have captured Brooklyn

Spotted in Memphis, Tennessee

New York City neon sign

Spotted in Los Angeles, California

Two special edition Newcastle Brown Ale labels
Outdoor campaign by Vitro agency

theHouse branding for Newcastle Brown Ale

Newkie Broon Ice Cream – whatever next?!
Sadly, the Tyne Brewery site was bought by Newcastle City council, OneNorthEast and Newcastle University to be used for the Newcastle Science city project, and has since been demolished. At least the likes of Clint Eastwood enjoys it!…have you tried the infamous Broon Dog?
Back to Blog