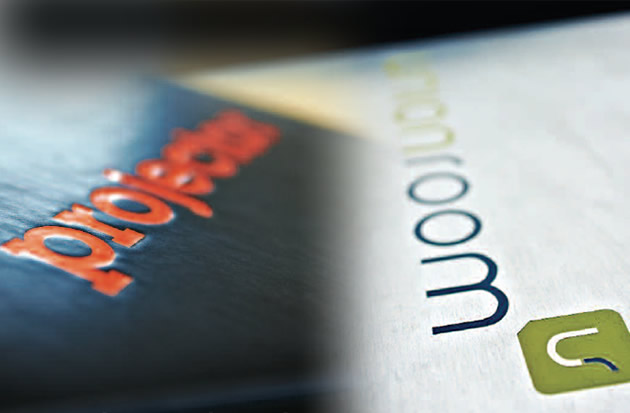 Anyone that has visited our studio will have noticed that we share the offices with our partners in crime Projector Brand Communications. We often get asked about the connection between the two companies, and we are more than happy to explain. We call ourselves 'sister companies' and we work with one another on many collaborations, but our company relationships run much deeper than shared office space.
The two managing directors Phil Lowery (Projector) and Glen Stovold (Union Room) both gave a joint interview to a well known North East publication early last year and we thought you may like to read it if you missed it the first time.
At a time when the advertising industry was first hit by recession, and then swingeing government cuts that have affected public sector accounts, there are two North East companies that are stepping forward confidently where others have stumbled. And they are doing so by complementing each other and proving that two creative consultancies can be better than one when it comes to building brands. It also helps that the two bosses have been friends since childhood.
There's no secret formula, according to Glen Stovold of digital design and development agency, Union Room. "You have to keep clients happy by maintaining relationships." Phil Lowery of brand communications consultancy, Projector, agrees. "We keep talking to people. Open dialogue with clients. We like to bounce ideas off them." It's a two-way approach that has seen both companies grow steadily from the days when Phil and Glen were two freelancers sharing an office in the centre of Newcastle ten years ago.
"What we have in common is that we are straight-talking and value down-to-earth relationships," explains Phil. He doesn't apologise for the fact that neither Glen nor himself are big on ad-speak, or into pseudo-marketing babble. Nor does Phil subscribe to thinking that the fundamental elements of a good brand strategy are pretty pictures, as seems to be the recent trend. As he says: "If that's their thing, then sorry, we wouldn't be right for them." Honesty with clients is paramount.
So how do they produce results for their clients? Whether Projector is creating a new brand or breathing life into an existing one, or Union Room is creating a stunning website or planning a complex management system, they believe that the medium used has to speak persuasively to the audience by giving them compelling reasons to listen. Phil says that work needs to be rooted in good strategic creative thinking. "We are great believers in big ideas. And we've come up with a good few over the years." When it comes to the digital side, Glen says that "Union Room concentrates on bespoke, attractive and, above all, effective design which reflects the client's brand."
Electing different routes
You can tell by the good-natured banter between Phil and Glen that they go back a long way. In fact, they met at primary school in Whickham, on the other side of the Tyne. Though their subsequent careers followed similar paths, they actually took different directions. While Glen went to college to study for an HND in advertising, Phil joined Smith Design on the YTS scheme. It meant he could study Graphic Design part time while learning the ropes. They still saw each other at the MetroCentre working at weekend jobs. This retail experience taught them valuable lessons in customer service.
Then Phil moved on to Yellow M, which was the hottest name in the North East at the time, making national headlines when they were appointed to handle William Hague's Conservative party campaign during the 2001 election. Phil was sent down to London to help out. Despite his sterling efforts, Hague lost the election. Later, when Yellow M abruptly closed its doors in Newcastle, Phil was asked to work for some of the agency's former clients on a freelance basis.
Meanwhile, at Newcastle College, Glen was receiving some sage advice from one of his advertising tutors. "Adverting on the internet are the future." It may seem obvious now, but it wasn't the received wisdom then. Glen went on to work for a number of digital agencies before ending up as head of digital design for Trinity Mirror North East. After gaining so much valuable experience, Glen took the plunge as a freelance designer. It certainly wasn't a gamble when he started working on bet365. Internet betting was just kicking off, and Glen looked after all the design elements, including marketing creativity, for this quick-moving industry. He had to learn to react swiftly to ever-changing needs. It was an important learning process and is one of the reasons he feels that Union Room and Projector work well with clients – "You have to be nimble and easily adapt to changing circumstances."
Now both freelancers, they hooked up in a two-man room on Westgate Road. "We went halvers on the office," says Phil. Their separate businesses grew "organically" in tandem. They started to take people on. Other freelancers were incorporated into the set-up. The name Union Room came from professionals working together. "There was lots of collaboration," points out Glen. There still is.
Spaced out
By 2007 they were too cramped in their Newcastle city centre base. They paid a visit to Hoults Yard and liked what they saw. As the block was about to be renovated, the two companies were able to have a say in how they wanted their large space laid out. Now, the traditional wooden beams and the red exposed brick subtly harmonise with the modern interiors. Natural light floods in and the airy feel is both welcoming and relaxing. "It's a great place to bring clients," according to Phil. "And it has good parking too," adds Glen, echoing the thoughts of many of the site's occupants. "It was always a problem in the centre of the city."
Though sharing an office and some clients, Projector and Union Room are still two distinctive companies often working in different fields and handling separate projects. The fact that both companies are still doing well despite national economic constraints, Glen puts down to the fact that "we've built a good team around us." That team runs to fifteen now. They've reached the stage where they can hand over projects to their creative colleagues and be confident that they will produce the standard of work that reflects the ethos of each company. "By building up people's confidence we can empower the staff," explains Phil. "It's about trusting the people you employ."
Phil and Glen are always looking at ways of driving their businesses forward. "We are continuously improving processes as we go on," says Glen. Phil proudly points to each company's client base, which includes brands like Home Group, Parkdean Holidays, Positive Solutions, Gateshead College and Credit Suisse. In fact, their clients range from small local firms to international organisations. Despite their success, it has been totally "unplanned". There was no great "business or lifestyle decision," laughs Phil. Maybe that is their secret; just enjoying what they are doing is more important. They certainly project an ideal union.
Back to Blog