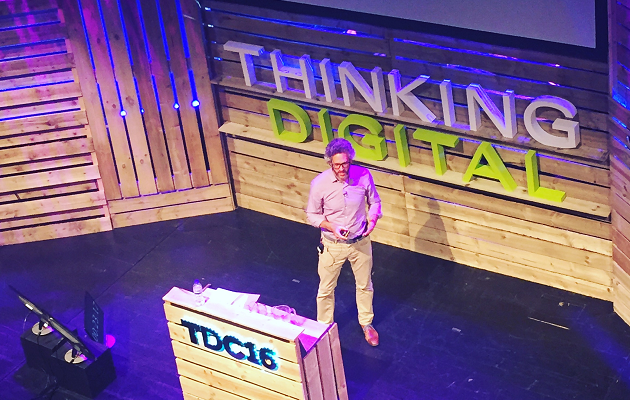 As part of our commitment to innovation, and to ensure we stay at the cutting edge of digital goings on, we like to get involved in creative industry events and this week some of our team attended the Thinking Digital conference at The Sage, Gateshead to… well, think about digital.
For those not in the know Thinking Digital is an annual conference now it's 9th year, aimed at anyone involved, invested or interested in the future of digital. From important developments and processes, to the new emojis due to be launched later this year, the speakers covered all of the many ways that technology can change our lives.
Following several workshops around the city on Tuesday and dinner at Prima on the Newcastle Quayside, Wednesday was a full day of 12 speakers hosted by The Sage, including cyber war veteren Mikko Hypponen, Bill Jinks from IBM, Google Product Manager Joe Faith, Bassdrummer Ed Hipkins, and Microsoft's SEO pro James Murray. The second day was brought to a close by the powerhouse that is MT Rainey OBE, bringing her wealth of experience to the table.
Over the course of the day we heard insider stories about Steve Jobs and the 1983 Lisa launch and listened to a modern day hero tell us about his job hunting bad-guy hackers. We watched dance music played on an adapted drum kit and did a spot of live-voting on startup pitches by music sharing platform Chew.tv and creepy-but-smart billboard innovators Offer Moments, via an event-specific app built just for TDC16, obvs. With such an eclectic mix of inspiring and interesting topics covered throughout the day we've had our (already ardent) passion for all things digital refreshed.
If you'd like to put our enthusiasm to good use then please get in touch to chat about your requirements.
If you're passionate about the same things we are, then check out our Careers page to see about opportunities to join our team.
Back to Blog