Pete Cashmore over at Mashable has posted some interesting statistics in the last 24 hours regarding the number of people leaving Twitter.
According to Nielsen Wire over 60% of Twitter users fail to return the following month after signing up to the service. That puts Twitters retention rate at around 40%, if you count the time frame before the Oprah Winfrey featured Twitter on her show it was at around 30% (it's thought that Oprah's use of Twitter live on her show attracted an additional 1.2million users to the service).
This is obviously quite worrying for Twitter, although it's a new service and casual users are bound to be pulled into signing up and never using it again, the numbers still look quite small compared to the approximate 70% retention rate of Facebook and MySpace at the same age of their respective services.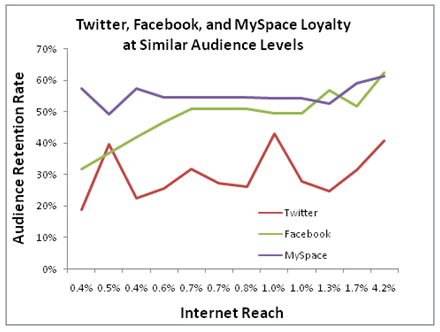 Although all three are indeed social networking services, it's perhaps unfair to compare them as they all offer quite varying tools within their individual services, Twitter especially.
People use / used (can I use MySpace in the past tense yet?) MySpace to connect with friends and perhaps more importantly as a music service.
Facebook is an extension of MySpace in that it also allows people to find and keep in touch with old / existing friends and also has the ability to upload their own photo albums for all to see but in my opinion has a much more streamlined service in that it doesn't allow for aesthetic profile customising and there isn't a big problem with spam.
Twitter differs from the two in that it isn't particularly meant for finding old or existing friends, it doesn't have a music service, it doesn't allow for the cataloguing of photographs and it doesn't have any installable apps or games directly on the service.

So if we rule out all of that, what is Twitter actually meant to do? Well I see it plain and simply as a mass-networking tool and a place where I can meet like-minded people and find buzz-worthy links without having to trawl through Digg, Reddit etc. It's also a great debating tool, someone posts a point of view and complete strangers can instantly weigh in with their opinion which is an aspect that neither MySpace or Facebook can offer.
It's also important to highlight that these statistics don't necceseraly reflect the full Twitter user-base as a lot of people (over half according to HubSpot) use Twitter through services other than their website such as on their mobile or through desktop applications and may not have been counted in the survey.
Although the numbers look bad I believe the people that have an actual use for Twitter are the ones that will keep on using it and like any other service, the majority of people who have signed up just because of the hype will realise that it wasn't intended for them in the first place.
Follow us on Twitter: @unionroom
Update: Nielsen has responded to the people who were concerned at the study not including Twitter apps and it has re-done the study including more than 30 websites and applications and….the study threw up the same results of an approximate 60% leaving Twitter after a month.
Back to Blog