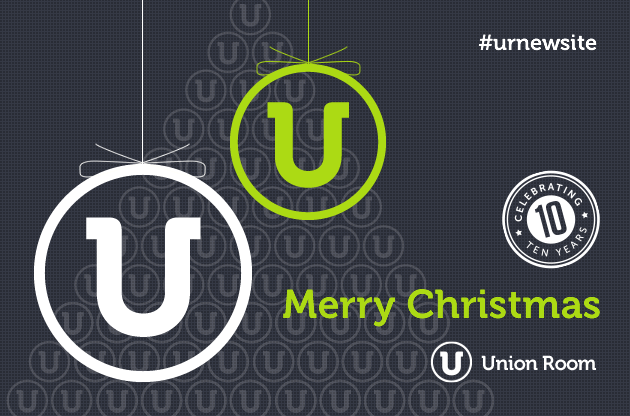 With just over a week to go until Christmas, we wanted to take a moment to wish everyone a wonderful festive period and our best wishes for 2014.
2013 has been an exciting and productive year for everyone at Union Room. We've been lucky again to be working with fantastic clients and a great team in the studio. In fact we've been so focused on client projects that we have finally managed to launch our new website – you're on it!
We love our new, fully responsive* website. It's been a collaborative effort from everyone to produce something we are genuinely proud of and can now showcase as being representative of the work we have been producing for others. It can be difficult to keep your site up to speed with the latest technologies when you are so busy making sure your clients are ahead of the game! Hopefully you like what we've produced – we'd love to have your feedback.
For us responsiveness isn't just about having an adaptive website, we're continually striving to learn and be as responsive as possible to our clients' needs. As we head into 2014 we look forward to developing existing relationships to be bigger and stronger and hopefully pick up some new projects along the way. We have a reputation for building long-term relationships with our clients and we value them greatly.
To our existing clients; we hope you enjoy our new website and sincere thanks for your support throughout 2013 – we look forward to working with you again next year. To our prospective clients; we look forward to speaking with you in 2014!
Best wishes from everyone at Union Room
*Basically we mean the website resizes automatically across different browser and device sizes and is flexible for mobiles/tablets. Give it a go – grab the corner of your browser window and watch it adapt as you scale!
Back to Blog