FHLTA
Celebrating Life After Transplant
Based in Newcastle Upon Tyne, the FHLTA is a voluntary organisation consisting of heart and or lung transplant recipients, families and their supporters.
They have 4 main objectives:
To relieve Heart & Lung transplant patients of the Freeman Hospital, who are sick and convalescing or in need of assistance, advice or facilities for recreation in order to improve their conditions of life and generally support the charitable work of the said hospital.

To advance the education of the public in the needs of transplantation and to mobilise, encourage, foster and maintain the interest and support of the public.
To give and exchange information and advice to promote education in all matters relating to transplantation.
To provide or assist in the provision of amenities in the Freeman Hospital including equipment, which may be needed for the benefit of Heart and Lung transplant patient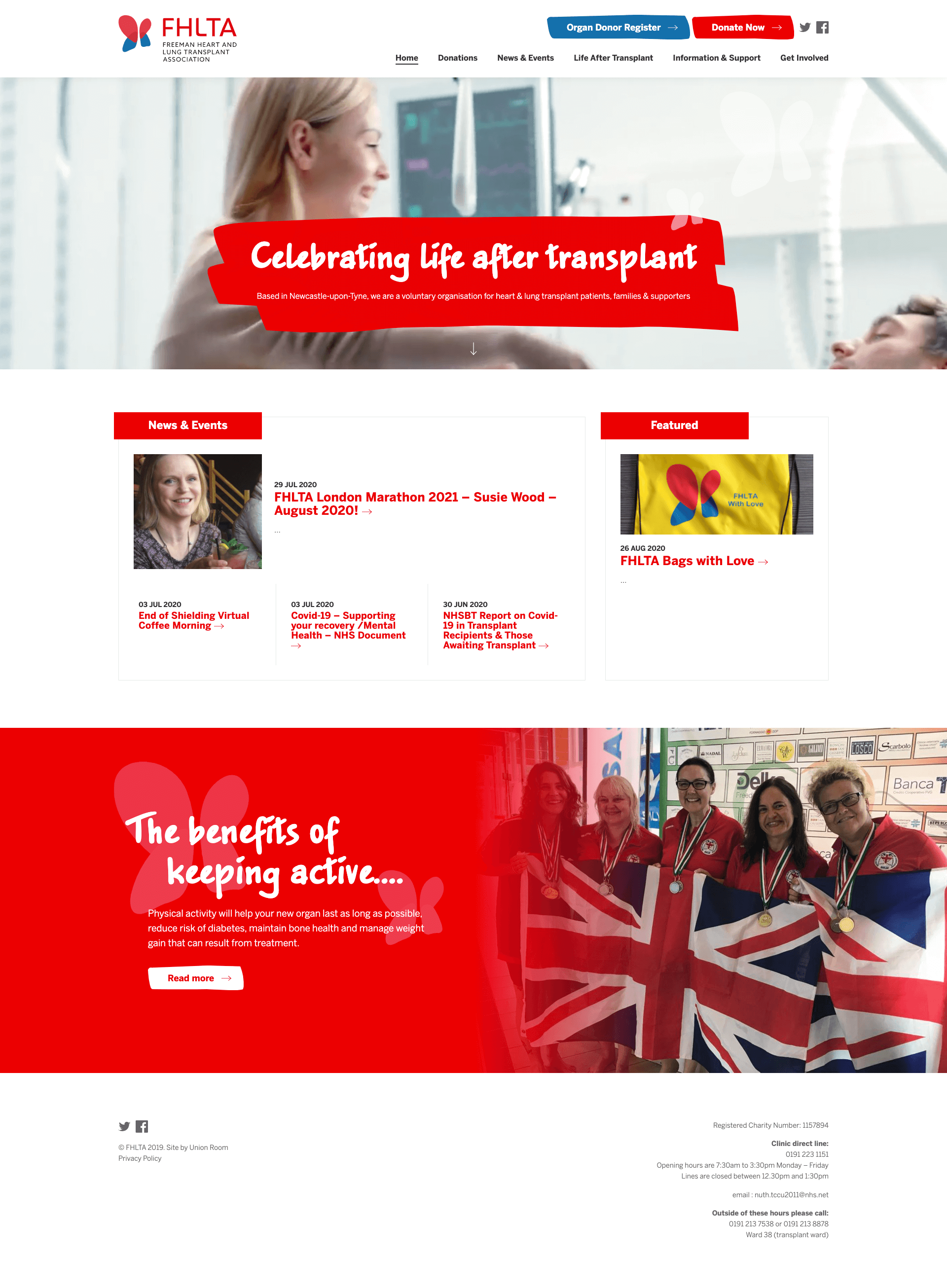 The FHLTA were looking to re-brand, re-design and re-build their existing website that was identified to be outdated from both a content and technology point of view, that didn't work on mobiles and tablets and didn't reflect or present the content of FHLTA accurately. In addition the donation process was slow and limited, with the current CMS being unusable and not a viable option for updating the new content structure. Donations received and testimonial process needs to be restructured and improved.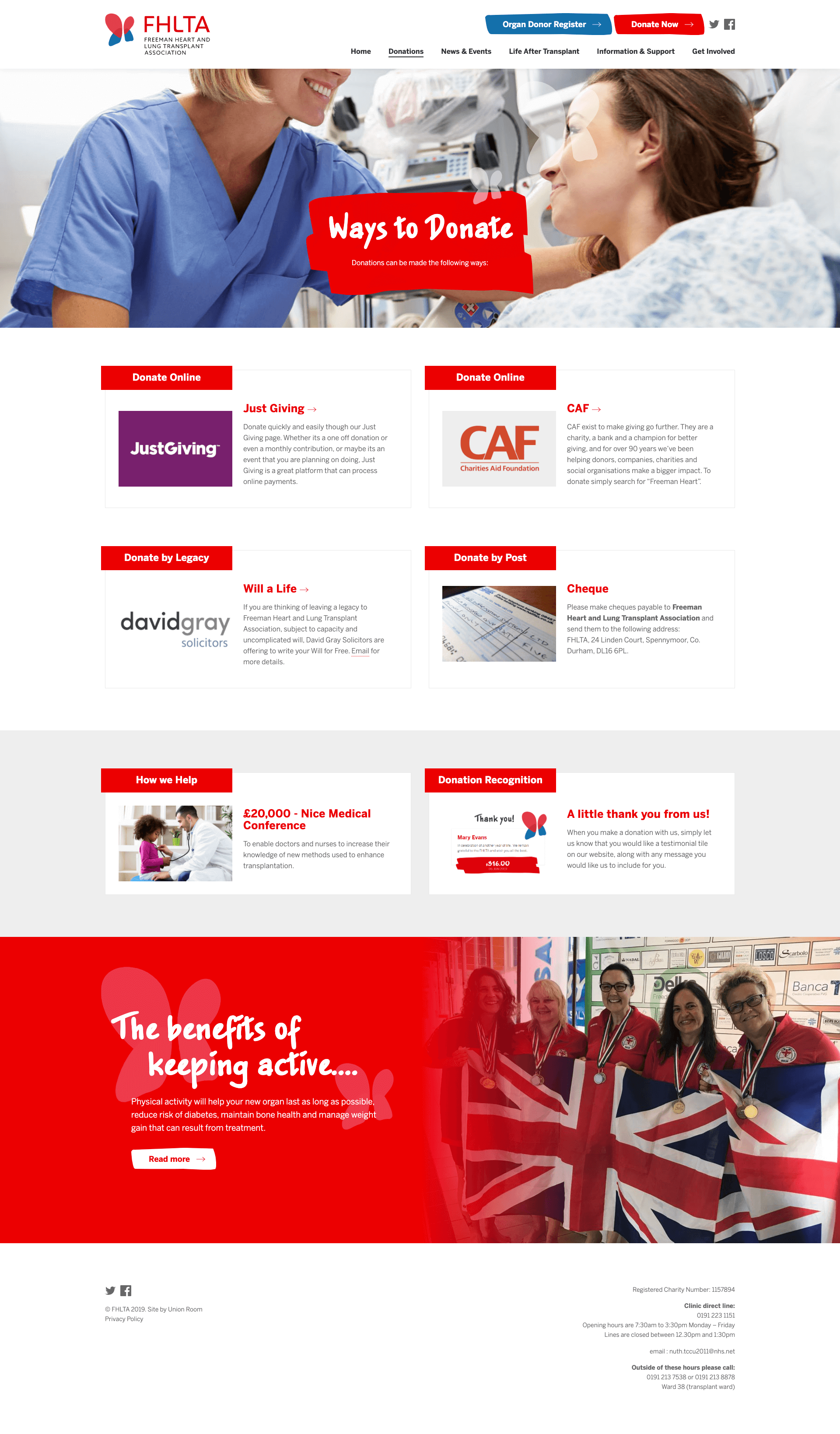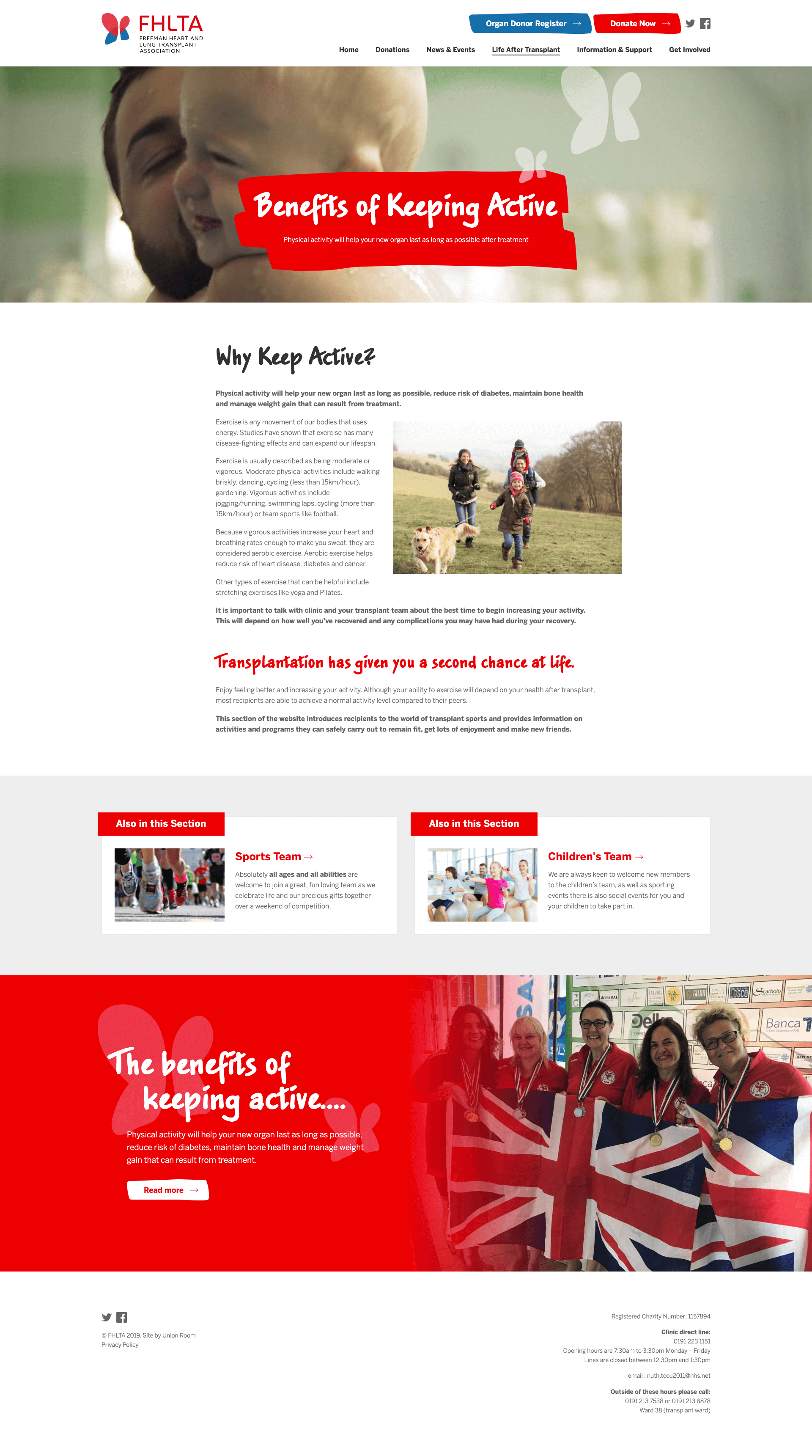 We proposed the following to solve these issues:
Prepare a discovery phase that incluided: What success is going to be for the redesign? What do you want users to do? What is the conversion via the site so we track and analyse this?

Logo refresh that was digital first.

Intuitive navigation, enabling easy, logical access to the FHLTA information.

Video for homepage.

Re-write and plan content.

Use new imagery as well as new images from FHLTA.

Google analytics to be setup and installed.

Mobile friendly – The website should be fully responsive to work across all devices.

Fully content managed using WordPress for the CMS platform and security.

Easy to update and manage by appropriate FHLTA staff.

Redesigned donation section using multiple technologies available with clear call to actions with links to donation pages.

Fully accessible and apply to all current GDPR recommendations.

Re-organize and identify key navigation and content sections for website to reflect FHLTA offering. For example:  Who we are – What we do – How we can help – How we have helped – Transplant Info  – Get involved – In focus – Donate etc